College is an exciting time, but do you know what's not so exciting? Tiny dorm rooms. Dorm rooms are traditionally very small and don't provide a lot of space for storage or organizations. Plus, there are a lot of rules about what you can and cannot do. 
 
Don't worry! A small dorm room is just a challenge for you to get creative with storage and organization ideas. There are tons of opportunities to maximize space and create organized systems to make your everyday life better. 
 
Here are a few tips and ideas to get you started organizing your dorm room:
Bed Storage
The bed takes up a lot of space in the average dorm room. However, there are a lot of ways to maximize the space for storage and organization.
Under The Bed
The most obvious solution is to store things under the bed. With a standard bed, you can do this with long, skinny storage containers. However, greater opportunities are available if you are able to raise your bed.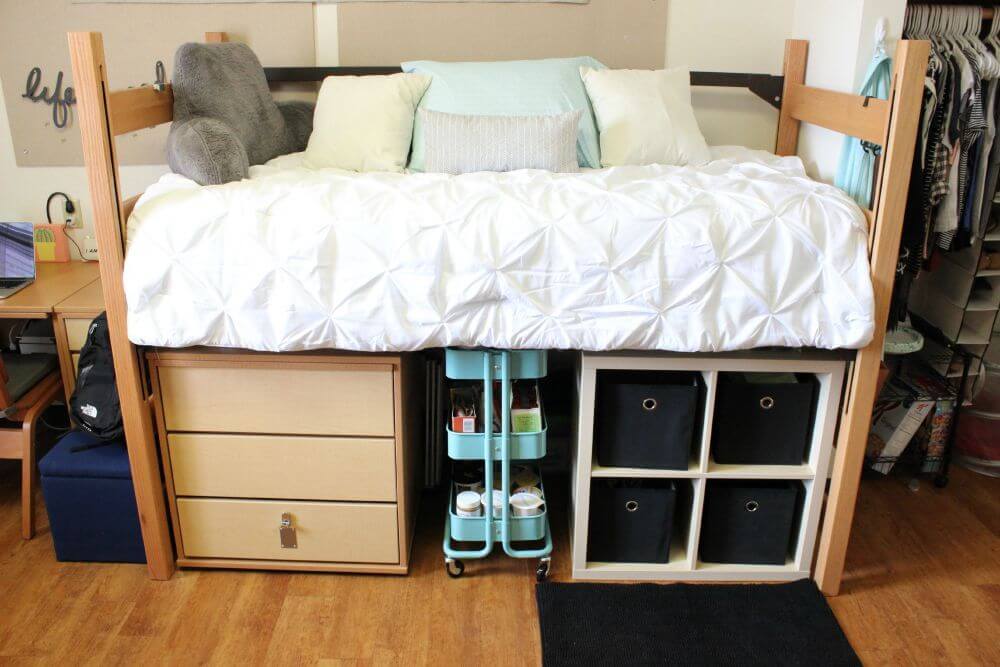 Photo courtesy of Jessica Slaughter
Using simple bed risers, you can open up a lot more space. For even more space, use a bed lift so you can place full sets of drawers, cubes, and other storage containers beneath your bed. 
 
Pro Tip: If you're looking to some bedside space, but don't have room for a nightstand, try a bedside caddy. It hangs off the side of the bed and provides pockets for things like your phone, a beverage, or anything you want to keep handy.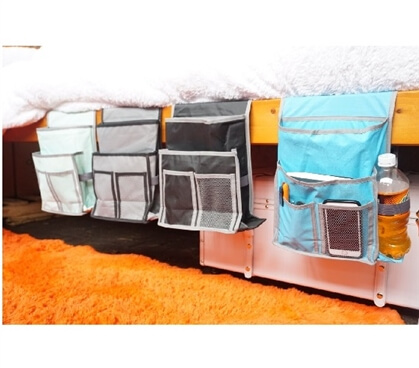 Photo courtesy of DormCo
Over The Bed
If a raised bed isn't your thing, consider using the space over your bed instead. An over-the-bed shelf gives you ample space for books, boxes, storage cubes, or whatever you'd like.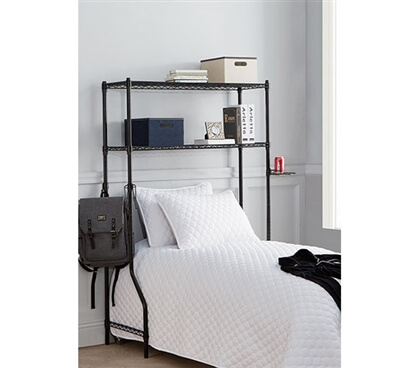 Photo courtesy of DormCo
Bed Lofts
If you really want to get your bed out of the way, bed lofts might be just what you're looking for. A bed loft completely lifts your bed up off the floor like a bunk bed. However, unlike bunk beds, instead of another bed below you can use the space for whatever you want. Popular options include futons, desks, mini kitchens, entertainment centers, and more.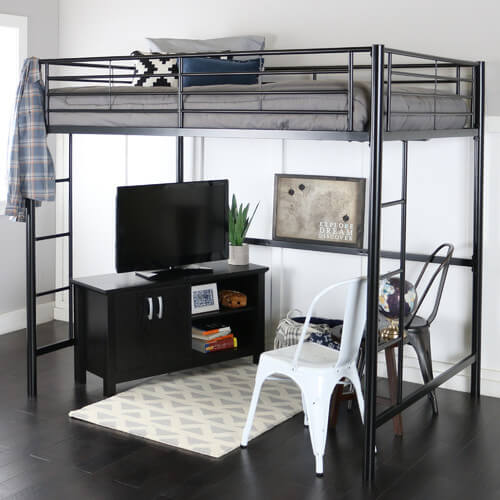 Photo courtesy of Wayfair
Closet Storage
Odds are, the closet in your dorm room is going to be small. It probably won't be much bigger than three to five feet with only one closet rod. Your challenge is to maximize the storage space without sacrificing organization. Here are some tools that can help:
Rolling drawers - Fit nicely at the base of the closet.
Jewelry holders - Keep jewelry accessible and untangled.
Hanging shelves - The greatest opportunity for additional storage space. Keep the shelves bare or use storage cubes to hide clutter.
Shoe hanger - Can hang from the closet rod or from a door.
Double closet rod - Add an extra closet rod to double the hanging space.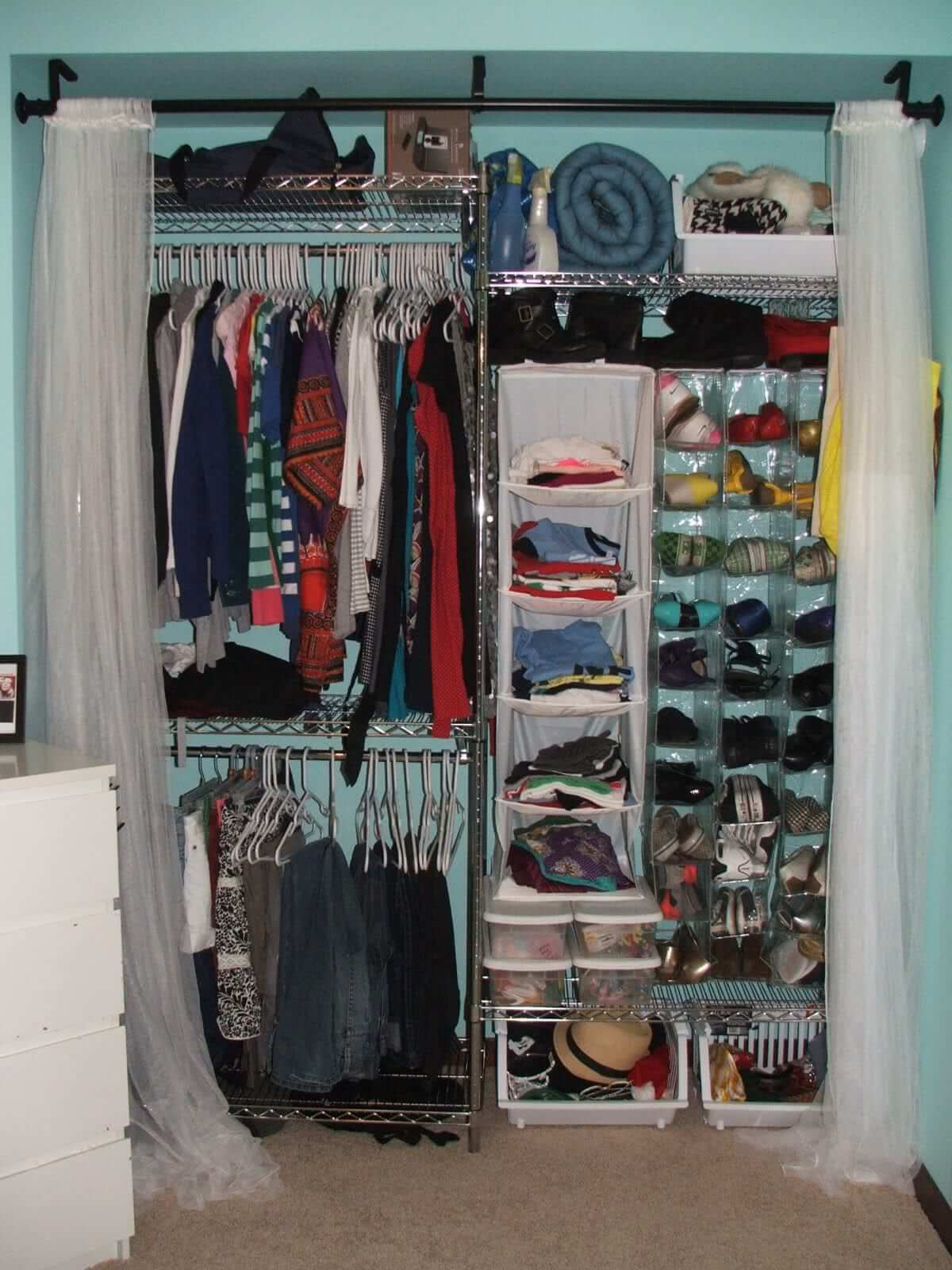 Photo Courtesy of Her Campus
Desk Storage
The desk is a very important space in any dorm room. This is where you will be studying, so it's important to keep it neat and organized. Standard dorm room desks don't provide a lot of space for books, notebooks, and other supplies, so you'll have to improvise:
Magazine holders - Great way to separate different supplies for different classes.
Desk drawer organizers - Don't let your desk drawer become a junk drawer! 
Cork board - It's like Pinterest but in real life!
Bookshelf - The best bang for your buck. Get a bookshelf that frames your desk space for all kinds of storage and organization possibilities.
Photo courtesy of DormCo
Mini Kitchen Storage
Dorm room rules tend to vary when it comes to kitchen items. Some dorms allow microwaves, mini-fridges, and other small appliances while others do not. Make sure you check with your university housing department for details.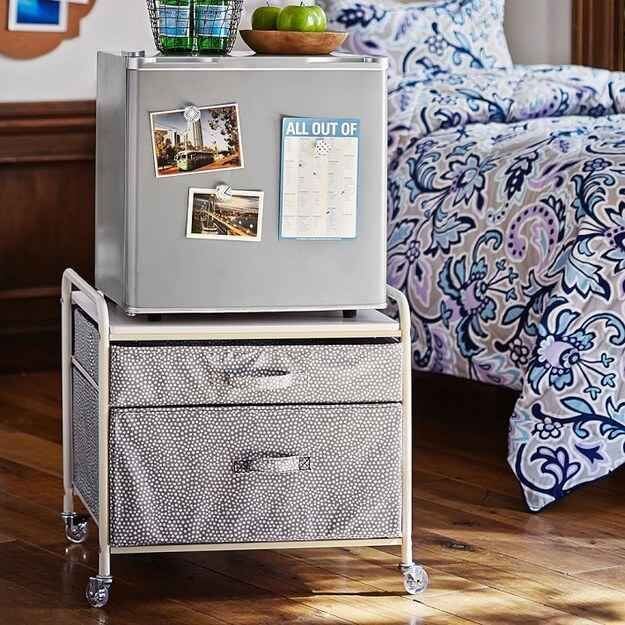 Photo via BuzzFeed
If you are fortunate enough to create a mini kitchen in your dorm room, here are some storage ideas to try:
 Shelves - You can put shelving beneath or above your mini fridge to create more storage space
Stack - Many students use their mini fridge to stack a microwave or other items on top
Combine - You can also combine your mini fridge into a multi-functional shelving space (see photo below)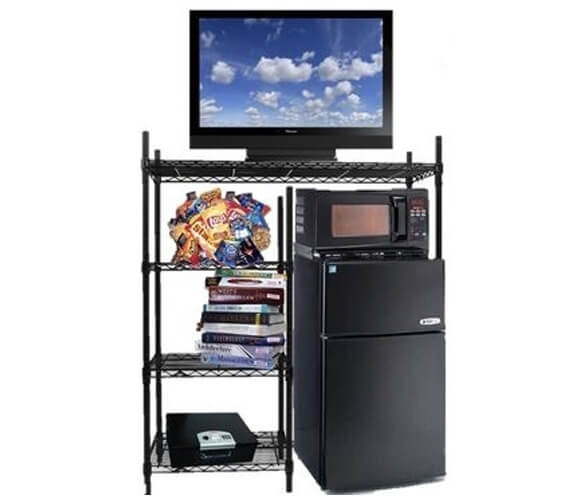 Photo courtesy of DormCo
Extra Ideas For Dorm Room Storage and Organization
Beyond the main storage areas in a dorm room, there are all kinds of opportunities for creative storage and organization. Here are a few ideas to get your mind turning:
Walls - Walls are good for more than hanging posters, you know! With removable adhesives, you can add hooks, bulletin boards, grids, and more.
Doors - Don't underestimate the amount the organizers you can hang over your door. There are over-the-door shelves, racks, baskets, hooks, shoe organizers, and more. 
Laundry - You'll probably be making a trek across the dorm to do your laundry. Make it easier on yourself with a sturdy hamper and a laundry caddy with everything you need.
Bathroom Tote - Keep everything you need to get ready in the bathroom in one convenient and organized tote.
Stools & Ottomans - They make great seats but they also make great storage containers!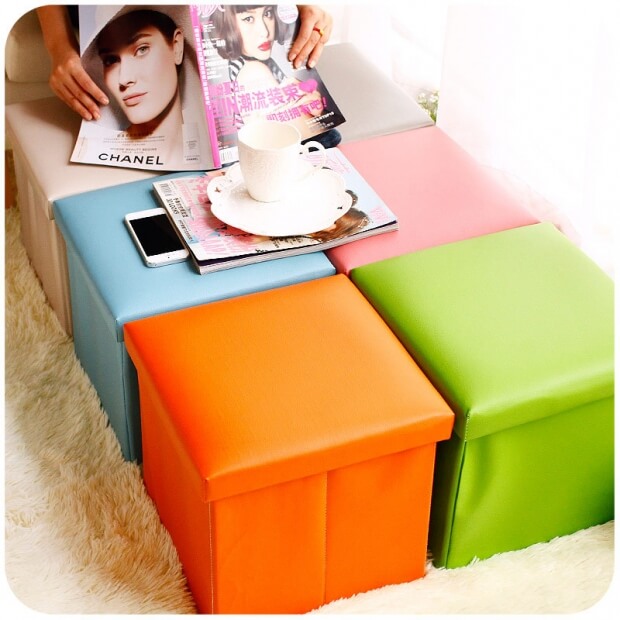 Photo Courtesy of Her Campus
Pro Tip: Every dorm is different. Your dorm may have different rules and regulations than other dorms. Make sure you check the university's policies or your RA before you make any big purchases. 
Enjoy Your New Dorm Room
Making the transition from childhood bedroom to dorm room can be challenging. Storage and organization is just the beginning of settling into your new space. If you need some help making the move or finding additional storage space, consider on-demand storage.
 
On-demand storage is perfect for college students who have big storage needs, but small living space. At Urbin Attic, we pick up and store your stuff whenever you need it. If you need something back, just contact us and we'll deliver right to your door. 
 
See if Urbin Attic is available in your area. We're happy to help make your college years organized and successful!