A small bathroom feels even smaller when it's cluttered and disorganized. Bathrooms naturally come with a lot of odds and ends to manage – shower items, hair products, face creams, dental care tools, towels, and more. How can you hope for an organized space when there are just so many things!
First, you need to look through all these "things" and identify the items you're actually using on a regular basis. Consider storing the rest or donating the items you'll never use again. After you've gone through this initial purge, evaluate what's left and look for creative ways to stay organized.
We'll help you get started. Keep reading for some great big storage ideas for your very small bathroom.
Rethink your sink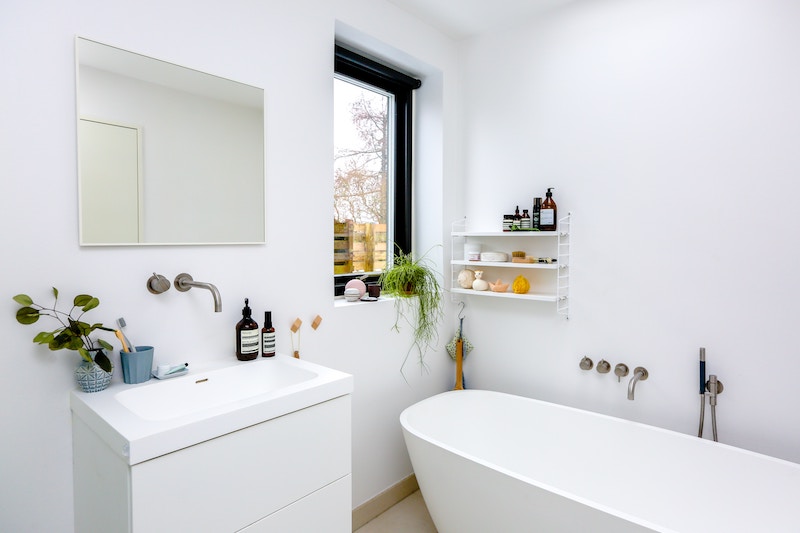 Since there are so many styles of sinks, there will never be a one-size-fits-all solution. The goal is to look for unique opportunities to capitalize on the space above or underneath your sink.
Take advantage of the space beneath your sink 
Pedestal or wall-mounted sinks may lack storage down below, but all that open space is perfect for a shelving unit, wrap-around shelf, or even stacked wicker baskets. Don't let that prime storage real estate go to waste!
Try countertop organization
If you have a large bathroom counter, think about using some of that space for storage. For example, try glass jars to store small items, wicker baskets, a minituratre drawer unit, or even a lazy susan. Just be careful to avoid too much clutter – one or two countertop storage solutions are plenty.
Look above your sink
Does your mirror have a medicine cabinet? If not, think about replacing it for one that does. Is there space above your sink for a small shelf? What about on the sides of your mirror? Could you install a row of shelves there
Go higher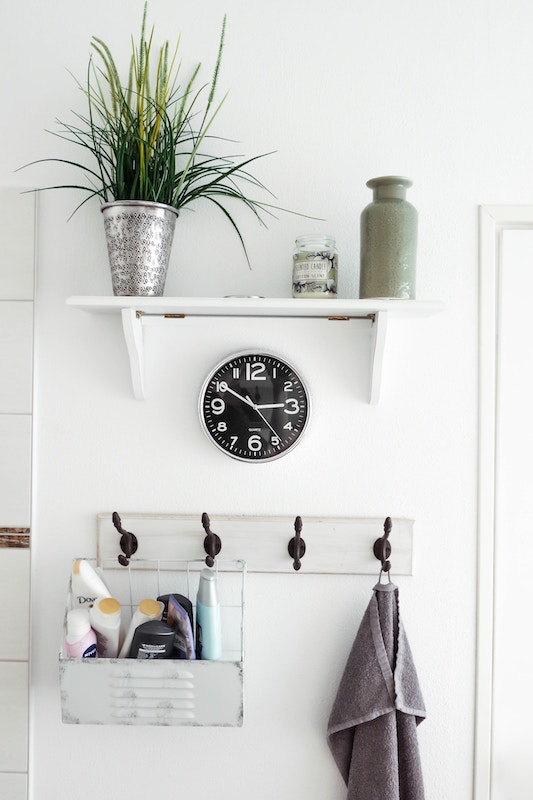 One of the easiest ways to find more space in your bathroom is look at wall space. Even the smallest bathroom likely has a blank wall begging to be utilized. For instance, above your towel rack or next to your toilet. 
As you're looking for storage solutions, keep an eye out for options that are tall rather than wide. For example, a vertical towel rack, hook rack, or a tall shelving unit. 
Capitalize on unused space above your door
One area people often overlook is the space above their door. Though it's perhaps not the most convenient area, this is a great place to hang cubbies for storing extra toilet paper or towels.
Use floating shelves for narrow areas
A hanging shelving unit is your go-to solution for walls that don't have enough floor space for a standing storage solution. Floating shelves look sleek and provide just enough space for key bathroom items, like towels, toilet paper, or skin care products.
Create multi-purpose spaces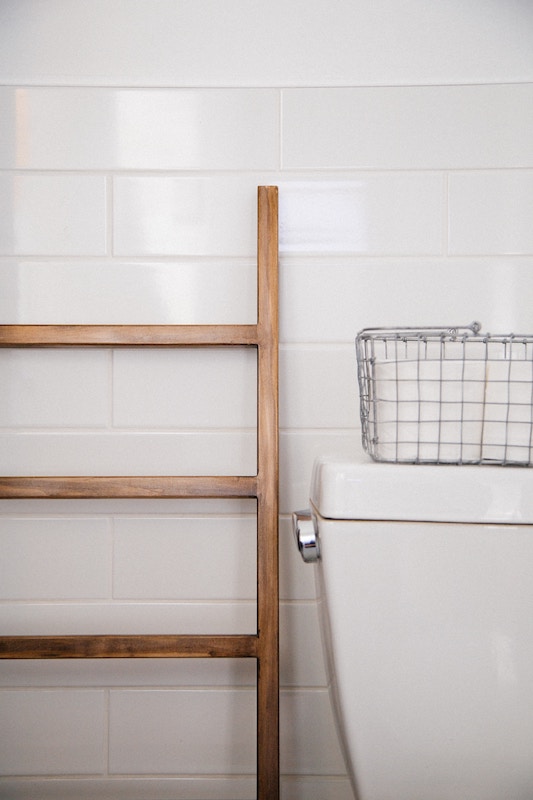 Creativity is the best way to overcome a small bathroom. One of the most creative storage approaches is to give each area of your bathroom more than one purpose. Your toilet, for example. Try placing a basket on top of your toilet to store toilet paper. Or take it a step further and install a whole shelving unit behind your toilet. 
The goal is to look at the key elements of your bathroom from all sides, imagining how else you might be able to use it effectively.
Towel racks on the back of your door
The back of your bathroom door is a blank canvas just waiting to help organize your space. Towel racks are an obvious option, but if you already have enough towel storage, try a back of the door hanging bathroom organizer.
Use the space on the back of your cabinet doors
Whether it's your medicine cabinet, under the sink cabinets, or other shelving units in your bathroom, don't forget about the inside of these doors as potential storage space. Consider hanging hooks, small baskets, or other secure bathroom item storage inside these spaces. 
Try new shower storage options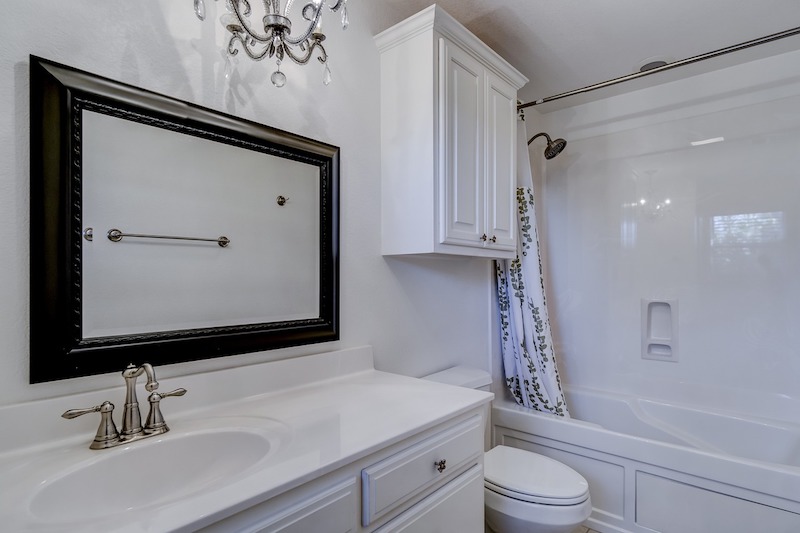 If you're like most people, your shower or bathtub is probably lined with various bottles, scrubs, and other products. A clean and tidy shower space will make a world of difference in the overall appearance of your bathroom, so focusing on decluttering this space is a great plan.
Install a second shower rod in your shower
One ingenious method for creating easy storage in your shower is to hang a second shower rod along the back wall of your shower. From this rod, you can hang buckets, hooks, baskets, or even shelves where you can store your shower tools.
Use your corners
Shower shelving is a must, but today's options go beyond the traditional wire caddy that hangs from your showerhead. Todays shower shelving is design focused, sturdy, and can be installed in various parts of your shower – even your corners. 
Color coordinate and disguise bottles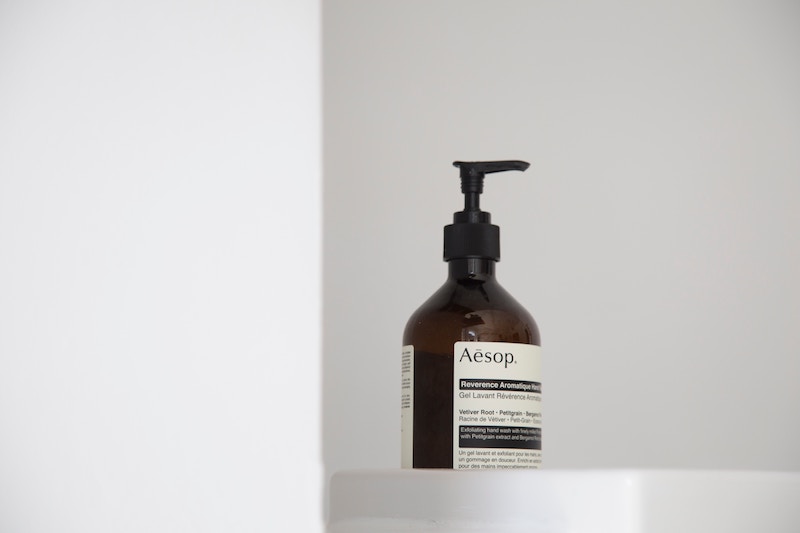 Our last big tip for helping your bathroom look tidy involves organizing your space by color. Too many colors in a small space will make your bathroom look cluttered and messy, even if it isn't. Instead, stick to one or two colors – we suggest light, bright colors to help your space feel more open.
Another thing that can cause visual disorganization are all the bottles and containers around your bathroom. Consider investing in permanent matching bottles for all your shower, hair, and body products to create a cleaner look.
Find out why Urbin Attic is Seattle's top storage solution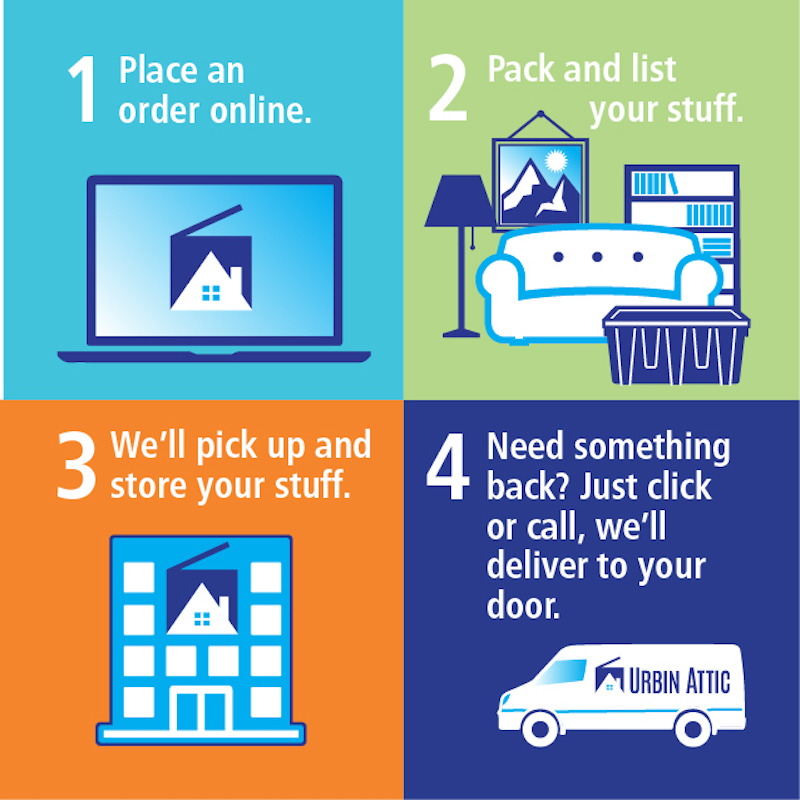 Here in Seattle, living in a small space is something many are familiar with. Just because you live in a small space, doesn't mean you can't be organized and comfortable. 
We're here help your keep your bathroom and every room in your home organized. Urbin Attic provides a safe and convenient way to store the things you love but don't need every day. Learn more about how on-demand storage works or give us a call at (844) 908-7246.